Don`t take our word for it!

The business has grown rapidly due to the type of feedback we get from our clients.
With over 80 trips to the UK in my last 35 years, 75 of which were coordinated by either Mr. Roy Anderson or Mr. Stewart Smith, I could not advocate or recommend more highly a golf travel company to golfers from around the world!! The professionalism, detail, communications and attention to service shown by Stewart and his team, who took over control from my dear friend Roy 7 years after his passing, is beyond reproach and should anyone be looking for a booking agent for future UK golf trips, do not look any further than Stewart and his team at MTCGolf. A Scotsman from Troon and a British PGA Member, Stewart knows the lay of the land as well as anyone on UK ground and he can design a trip for the lightest of budgets, to the heaviest. Just tell him what you want and then relax, everything will, I can assure you, be handled with class and distinction!
Now, travel!
Cheers,
I am writing to express how much I enjoyed our trip as part of Jayne`s group in Scotland. I had never been and it was the trip of a lifetime for me! Scotland is beautiful in every way! The golf was spectacular and we were very lucky with the weather aswell! I just wish we could have stayed longer to tour more historic places but the ones we made it to!
Having said all that, I send highest compliments to Stuart, our driver, who was the absolute best! He was always so helpful and really gave us great insight into Scotland that we would never have had if we had been on our own. He is truly an asset to your company and if we return I hope he will still be working for you!
Thank you for putting together our trip. I will highly recommend your company to any of my friends and may well have another trip to Scotland in the near future! It was just wonderful!
Glen,
Many thanks from John and I for making our first trip to Scotland so special! We wish you a great holiday in Nashville – a nice change of pace. Here's hoping out paths cross again!
Glen,
I just wanted to take a moment and say thank you. Words cannot express how happy we all were with our first trip to Scotland.  From the golf to the food to the conversation, everything ran smoothly so could sit back and take it all in. We could not have had a better experience and still pinch myself that we made it onto the Old course. Thank you for going out of your way. We look forward to seeing you again when I hope you can be our guide.
Dear Lindsey
I would like to commend one of your drivers for a great job!
Maurice was our driver in October and he was kind and helpful to every one of us. He also took the initiative to show us so many great sight seeing suggestions and he was pleasant, organized, prompt
As you know our 12 days with Maurice ended yesterday. Our trip with him was nothing short of amazing. Everything went as planned but also he was very flexible and each day we decided what the day would be outwith the key elements. He was an outstanding guide and driver. He knows so much about Scotland`s history and was our own personal guide no matter what we wanted to do.
Stewart and Lindsey
We decided to book a trip thru a golf pro who is also a tour operator in our local area. This was to be a family trip and only now realise how big an ask it was to do all the courses we wanted in England with so much driving in between. We got lucky in having Stewart himself look after us and everything was perfect. The golf courses were outstanding, hotels stunning, restaurants fabulous and the extra sight seeing which was an unexpected bonus all made it the perfect trip! Can`t wait to do it again in Scotland and Ireland.
Stewart, Lindsey and Davie,
You certainly "knocked it out of the park" last week with such a well organized England golf trip – giving us the opportunity to play 6 of the greatest courses we have ever played!!
Thanks to you all for such a quality effort that ranked "excellent" in every category by all of us!
Transportation – Dave is just simply the best!! Always safe, always on time, always helpful! And maybe one of the nicest, kindest personalities on this earth!
The restaurant choices – all top notch. We loved both Italian choices and the last nights Bistro experience was 2nd to none!
The Vincent was the perfect hotel – excellent accommodations and service above and beyond!
Course sequence – absolutely fantastic. Perfect order to play with the crowning jewel Birkdale at the end! Your choice of tee times were exactly right for our sleep schedule.
Reception at the clubs – all the six clubs were always ready for us – with good caddies and of course my cart! We could tell you made sure every detail was considered before we arrived. And of course, Dave staying with us until we are on the course each day, gave us a real sense of security and a relaxing feeling. Thanks again to dave.
And of course Stewart, it was very thoughtful for you to meet us personally at Formby – a very nice gesture that all of us appreciated.
Thanks again for the perfect golf trip and looking forward to more planning in anticipation of Scotland 2020!
God Bless!
Roddy,
"Supplies" – thank you for being a special part of our dream vacation. You provided safe rides, great tours and lots of laughs! Stay well, happy and enjoy life!!
When you are in the States please give us a call.
We had an amazing time! I can`t say which place was our favourite. We thoroughly enjoyed it all! Our driver, Tom Rae, was terrific. He was knowledgeable, professional and had a nice disposition. Amazing! Thank you!
I have known Stewart for many years and all I can say is he has the master`s touch in everything he does.
My dad began Tom`s Golf Tours in 2000 and compiled a very happy clientele who travelled to Scotland and Ireland. However, when my dad and I began having Stewart handle trips for our clients around six years ago, our business has expanded greatly. Our Scottish business is up 4 fold due to delighted clients passing on our details via word of mouth. In addition the added value of Stewart and his team`s building trips in new (to us) venues like England, Spain and Portugal has been great for our business.
We have settled back into life in Charleston and wanted to reach out and tell you and Stuart that we had an incredible trip to Scotland! It truly was an unforgettable experience. Our driver, Stuart, the golf courses, the hotels and the touring were just incredible. Thank you so much for arranging everything for us. The group is already talking about doing Ireland in 2021!
We have just returned from our trip to Scotland and Ireland. We had Maurice McKendrick as as our guide and driver. We wanted to let you know how thrilled we were with Maurice. No way can I express how grateful we were to work with such a competent driver/guide. He was not only a great planner and intuitive but was a genuinely nice person with whom we both immediately had a great rapport.
Jeff and I both love photography and Maurice was great at stopping where we could get the very best shot. He was also amazing at coming back with suggestions of things to do and meals with nuggets of knowledge and added sight seeing suggestions for the next day.
Nothing I can say can really encompass our deep appreciation for such a wonderful guy as our guide for our first trip to Scotland and Ireland but know this….we will definitely be back and will use you again. Maurice is a gem and you should be very proud to have him represent your company…we count him as our new friend.
Dear Glen, Our sincere thanks for a job well done. We appreciate all you did to make our visit to Wales both fun and a wonderful memory. Thank you for safe travels and for going above and beyond your responsibilities.
Stewart and Lindsey
The trip was first rate. Well organized and executed. Accommodations were excellent and the golf was as good if not better than expected. Glen was awesome as always. Everyone really enjoyed it. Thanks you so much for all your efforts.
This e mail is to provide the best possible recommendation for Maurice McKendrick who provided us with outstanding service during our recent stay in England and Scotland. Maurice was an excellent driver and guide – professional in every way. Moreover, he was a pleasant travelling companion and enhanced our trip immensely. We were pleased with his services in every way possible.
Hi,
We absolutely adore Stuart!! He is so professional and so kind!! I`ve already posted on our website how fantastic your company is!
Thank you so much.
Hi Stewart and Lindsey
Just wanted to write you a note now that I have returned from the trip to thank you for your companies` services on our trip. Glen was great and the groups just loved him. The service was impeccable and really nice that he could join us for a couple of rounds to make up fourballs. I look forward to working with you a bunch next year and moving forward.
We had the privilege of being with Douglas Allison from a pick up in London until he dropped us off in Scotland ten days later. We could not have had a better trip to Scotland and England. He is such a gentleman and so very pleasant. He was always willing to accommodate us and so helpful. More importantly, even though I had done an incredible amount of research, he was very knowledgeable about all the areas we visited. One example was that we had no idea we needed reservations to visit distilleries in Scotland. He mad all the arrangements for us and greatly enhanced our visit and experience. Douglas has a genuine interest in other people and life in general. He is a Prince amongst men!
Hello, I wanted to thank you for the wonderful time we had in Scotland. This is the first time we have used a driver and it could not have gone better. Roy was the consummate professional and very enjoyable to spend our vacation with. He took great care of us, especially my mom who was like;y doing her last European vacation. She has not stopped talking about it! Not sure if you have arating system but he deserves 11 out of 10!
Lindsey,
Many thanks for all your assistance with our travels which made the trip so much easier and enjoyable. Dominic was outstanding and his willingness to go the extra mile for us was appreciated by all. I will be very happy to recommend your services to anyone I meet and hope that Dominic can take care of us on our next trip.
Back from another links golf adventure and the whole group had an extraordinary time in SW Scotland. We were able to play on very fine courses and the birthplace of the Open at Prestwick. Again this was a year when we were lucky with the weather. It could not have been better. Our drivers Gordon and Dominic were perfect! The Lodges at Turnberry are the best accommodations for groups! You feel so at home. The apperitifs in the evening in the sun in front of Turnberry Hotel with a Gin & Tonic and the Scottish bag piper were just awesome!
MURCAR
PLAYING THE COURSE
The Murcar Links meets Royal Aberdeen at its ninth green and shares the same spectacular dune land and stunning North Sea views in addition to sharing its neighbour`s ability to challenge a golfer of any standard.
The course was originally designed by Archie Simpson in 1909 it was improved upon by 5 times Open Champion, James Braid in the 1930`s and has hosted, amongst other professional and amateur events, the European Tour`s Paul Lawrie Match Play in 2015 won by Thailand`s Kiradech Aphibarnrat. Being only 5 miles from Trump International Links and bordering Royal Aberdeen it is a must play along with these two and Cruden Bay.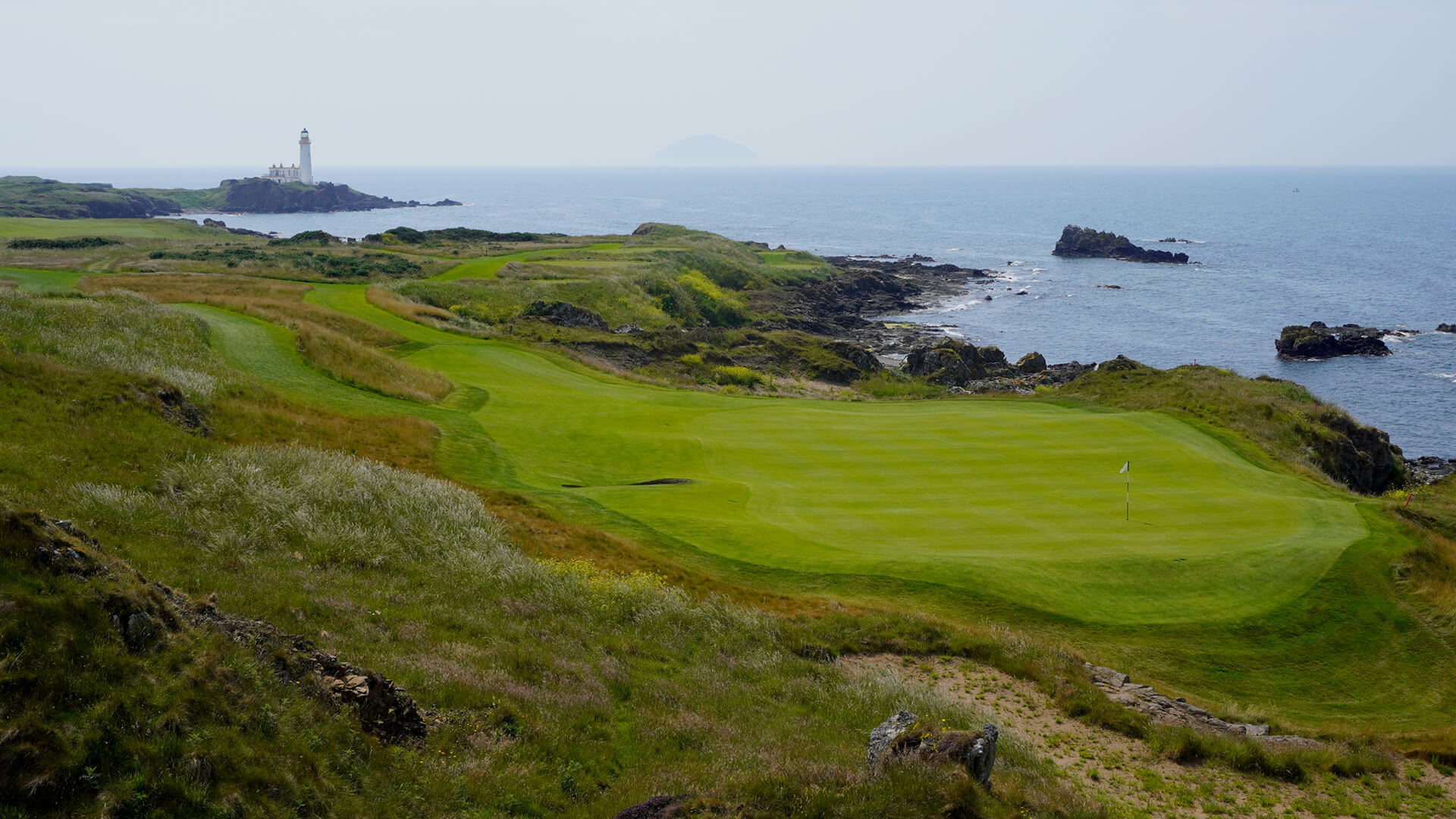 TRUMP INTERNATIONAL GOLF LINKS
PLAYING THE COURSE / WONDER
This magnificent site was developed by Donald J Trump, opening in 2012. The in put from the owner along with the experience of the Royal and Ancient Golf club`s architect, who has improved many Open Championship venues, Dr Martin Hawtree created a golf course which has achieved the highest ever top 10 United Kingdom and top 100 World ranking entry positions with various top publications. As Dr Hawtree said  "It will produce simply the most dramatic, stimulating, invigorating stretch of golf anywhere I have seen in my career"
CRUDEN BAY
PLAYING THE COURSE / WONDER
This magnificent links rates at World no 71 per www.top100golfcourses.com and rightly so! It meanders through the same, most dramatic in Scotland, dunes as Royal Aberdeen and Trump International Golf Links. There are records showing golf being played on the site near Slains Castle in 1791 and indeed the Club has in its procession a Medal played for over this original course in 1883. The present course was commissioned by the Great North of Scotland Railway Company in 1894 as a facility to accompany the Cruden Bay Hotel and designed by four times Open champion Old Tom Morris of St Andrews. It fully opened in 1899 with an inaugural professional two day open tournament.
The leader after the first day's play was 6 times Open Champion Harry Vardon. On the second day the leading four qualifiers went into matchplay and in the final Vardon beat David Kinnel from Prestwick St Nicholas by 3 and 2.
Please see here some early footage of the event Scottish Screen Archive. (Lloyd please take the hyper link from the website)
Bram Stoker used to frequently stay in the near by Kilmarnock Arms Hotel and used Slains Castle (very visible from the early holes) as his inspiration for the Dracula novels!
Cock and Bull
The Cock and Bull is situated vert close to Trump International Golf Links and is a great eatery or watering hole after golf there or on the way back from Cruden Bay. It is cosy inn with great local produce and lovely surroundings. It boasts an AA rosette and is in the Michelin Eating Out guide in addition to being voted Scottish gatropub of the year three times.
Silver Darling Restaurant
Voted by our discerning clients the best restaurant in Aberdeen city center its situation is everything its name suggests: In the heart of Aberdeen`s harbour and beach coastline The Silver Darling promises a great view with a passion for local produce with memorable food and drink.
Cafe 52
The Green as it is known locally lay neglected until recently. It is now the attention of foodies through the wonderful efforts of local entrepreurs with the restaurant Café 52 as its featured attraction.
Set in a little quadrangle behind the main thorough fair of Aberdeen, Union Street you are guaranteed a great night and never to be forgotten meal at Café 52.
MARCLIFFE
The Marcliffe has been an Aberdeen institution since it opened under the ownership of legendary hotelier, Stewart Spence, in 1993. The house dates back to the 1850`s and was owned by many.well known, wealthy local families which Stewart built up to be Aberdeen`s best and only 5* hotel.
Whilst a member of "The Finest Small Hotels of the World" it prides itself on being relaxed and homely with a wonderful spa, amongst the best cuisine in Aberdeen and the cities` most comfortable lodgings.
MALMAISON
The Marcliffe has been an Aberdeen institution since it opened under the ownership of legendary hotelier, Stewart Spence, in 1993. The house dates back to the 1850`s and was owned by many.well known, wealthy local families which Stewart built up to be Aberdeen`s best and only 5* hotel.
Whilst a member of "The Finest Small Hotels of the World" it prides itself on being relaxed and homely with a wonderful spa, amongst the best cuisine in Aberdeen and the cities` most comfortable lodgings.
CHESTERS
This chic, stylish hotel, as is the Malmaison, located in the West End on Queens Road is a sophisticated, elegant choice with a fine dining 1X restaurant and vibrant cocktail bar which also has a great menu.
Relax in the Egyptian cotton sheets and re invigorate under the hotel`s rainfall showers – a great location for your stay in the Granite City.
MELDRUM HOUSE
Set in the heart of beautiful Aberdeenshire the 240 acre Estate with its 13th Century baronial mansion as the center piece Meldrum is a truly luxurious experience.
Awarded a Thistle  in 2019 at the prestigious Scottish Hospitality Awards, this Scotland`s officially "Most Hospitable hotel" is complimented by a great golf course and academy, wonderful dining in the 1236 Cave Bar and Fine dining in the "Pineapple Grill and Seafood restaurant" where the 2 Rosettes are truly merited.
MCLEOD HOUSE
Donald Trump acquired this wonderful site including a hunting lodge which he renovated and re named after his mother`s maiden name, McLoed House. It is a truly 5 star experience on the outskirts of Aberdeen with superior and grand deluxe bedrooms and dining to match in addition to an intimate bar wonderfully stocked with Scotland`s most famous drink!
Located on the entrance road to the world class Trump International Golf Links, this is a great base for the links golf on offer around the Resort.
Cults Hotel
Cults although only 10 minutes from Aberdeen city center, retains a lovely, village feel and that same warm, friendly experience is on offer at the Hotel. Ideal for golfers and owned by a very keen golfer who knows how best to cater to the golfing guest.
The busy restaurant offers wonderful local produce with a great menu of local and International dishes.
Ardoe House
Part of the Mercure group, Mercure Aberdeen Ardoe House Hotel & Spa is a beautiful 19th Century mansion house, originally designed by renowned Castle designer James Matthews and built by Alexander Ogston, with the Queen`s near by residence of Balmoral as the inspiration. Its 30 acres is situated on the leafy South Deeside Road some three miles from the city centre and along with its spa, locally inspired cuisine at Blair`s and Soaphie`s bar it is a great location for visitors to Aberdeen.
Sandman Signature Hotel
This 218 bedroom hotel is in the heart of and very close to the attractions of the Granite City. It is situated in the former Robert Gordon University St Andrews campus and offers corporate, king, kitchenette, and executive suites in addition to a state-of-the-art fitness room.
Its on-site restaurant, Chop Grill & Bar, where fresh ingredients, hand-crafted cocktails, a warm smile, and lively atmosphere make for a great experience, day and night.