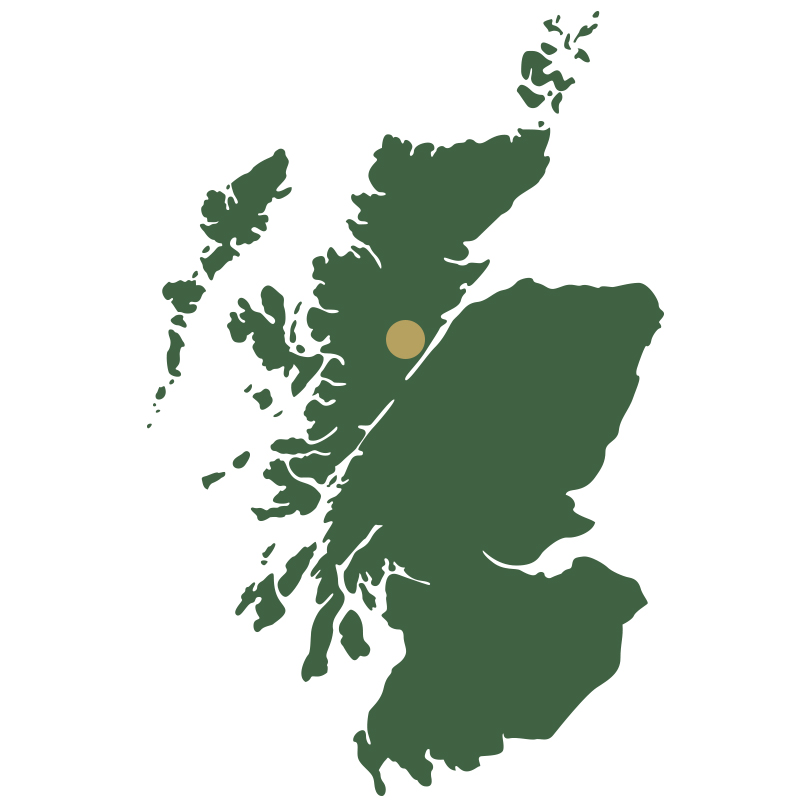 The true essence of Scotland, its most beautiful location of the Highlands boasts so many great golf courses with breath taking views and great true Scottish hospitality. With golf having been played in Dornoch for over 400 years and the wonderful, traditional  courses like Brora and Golspie plus the Walker Cup venue of Nairn and 4 times Scottish Open venue Castle Stuart you will love the relaxed experience on offer. Add in dozens of distilleries where many of the world`s most famous malts are distilled and great castles and scenery and you will love this most Scottish of trips.   
Brora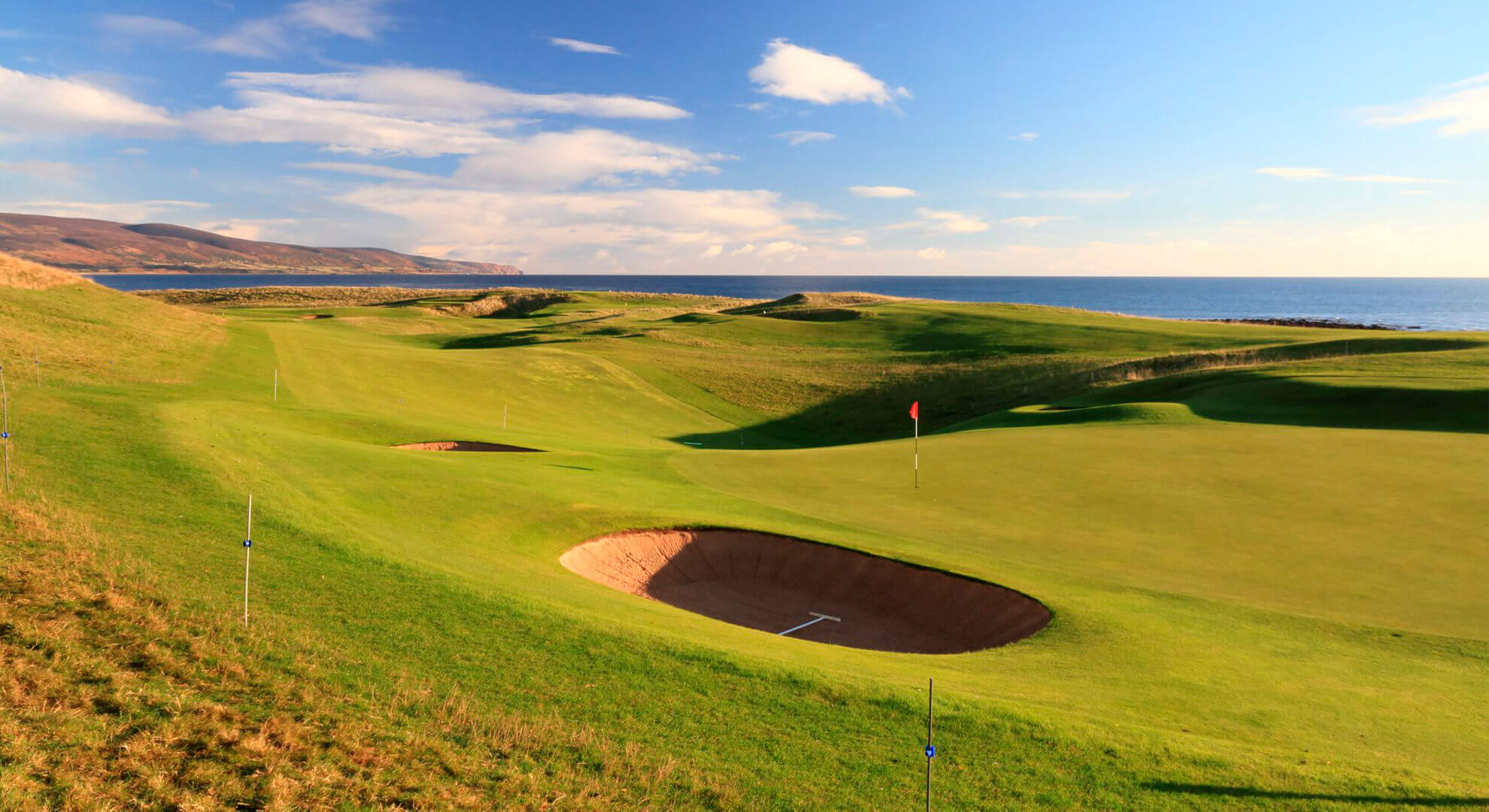 James Braid, the 5 times winner of the Open championship, created two masterpieces just north of Dornoch, one here at Brora and the other at Golspie which you pass through. You will also pass the beautiful former Estate of the Earl of Sutherland, Dunrobin Castle, on the way – well worth a visit. This delightful links which rates in the top 100 courses in the British Isles, is charming with excellent greens and to get a feel of how golf used to be, they are surrounded by fencing to keep off the sheep and cattle that roam the links!
Castle Stuart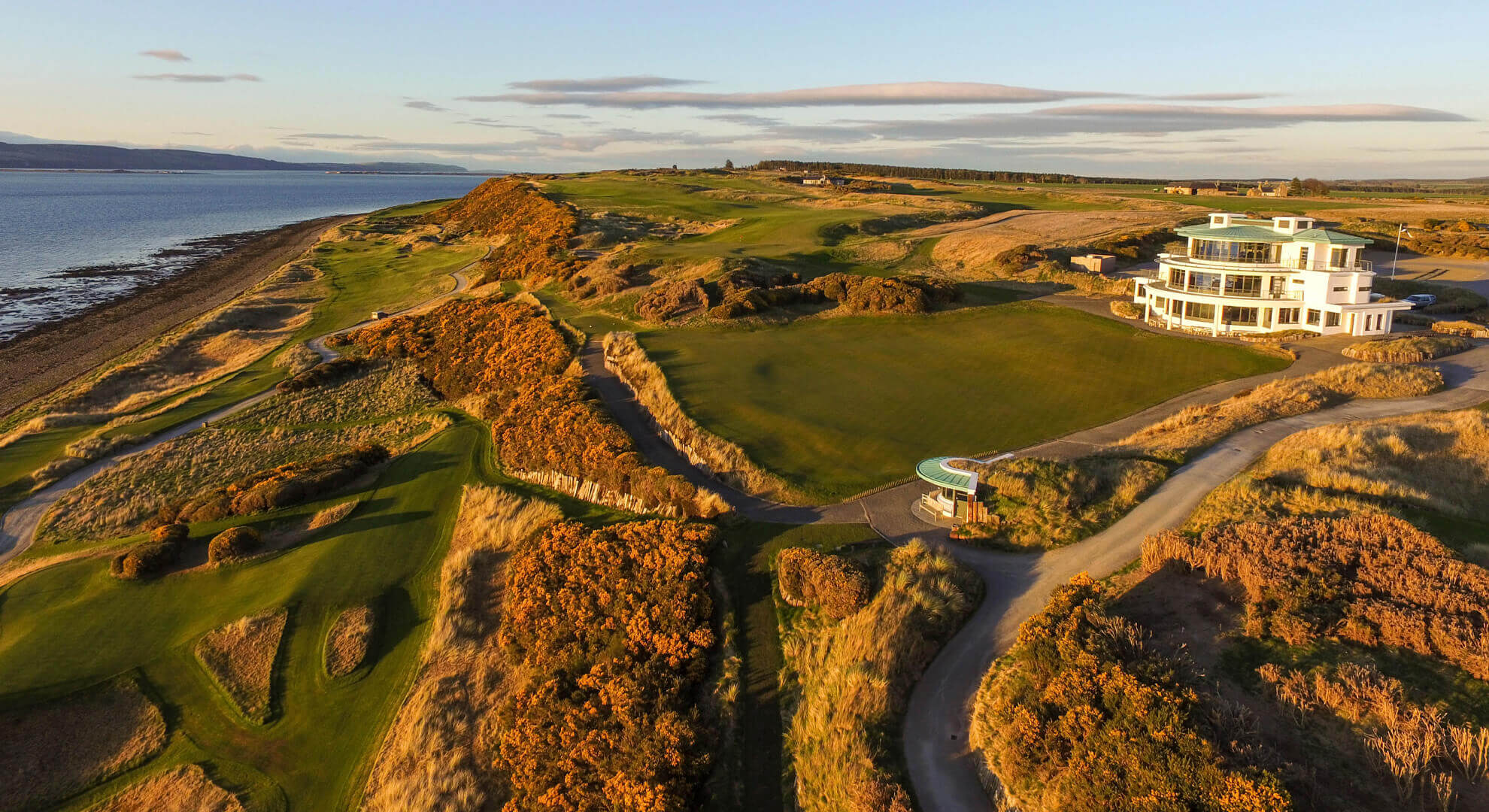 Perhaps Scotland`s most scenic course. Set in the Highland capital of Inverness, 10 mins from Inverness Airport, this gem which has staged 4 Scottish Opens on the European tour, very quickly entered every credible top 100 World ranking within a few years of opening in 2010. The masterpiece which is a collaboration of two geniuses Mark Parsinen – a driving force behind that other new "must play" Kingsbarns – and Ghil Hanse – who was applauded for the great work he has done at so many courses but recently at the 2020 US Open venue Winged Foot. They have used the natural landscape beautifully with vast expanses of gorse, broom, heather and marram which compliment wonderfully the beautiful Highland setting and its incredible vistas. Possibly the most enjoyable course you will play anywhere.
Golspie
The other wonderful links originated in 1895 and was re-designed in the 1920`s by James Braid to bring it up to modern standards which have remained relevant to this day. There are many stunning holes but the stretch along the North Sea of the 3rd/4th/5th/6th and 7th alone will bring you back again and again! The clubhouse has occupied many sites but finally took up residence in its present location in 1967 and is a great 19th hole!
Lossiemouth
Moray Old and New are lovely links courses and many clients on a typical Highlands trip love to break the journey from Inverness to Aberdeen or vice versa with either a distillery visit on the Spey and/or a great game of golf at The Moray Club in Lossiemouth. The Old course, opened in 1889, is a classic links designed by Old Tom Morris with deep revetted bunkers, undulating gorse lined fairways and smooth fast greens.
Moray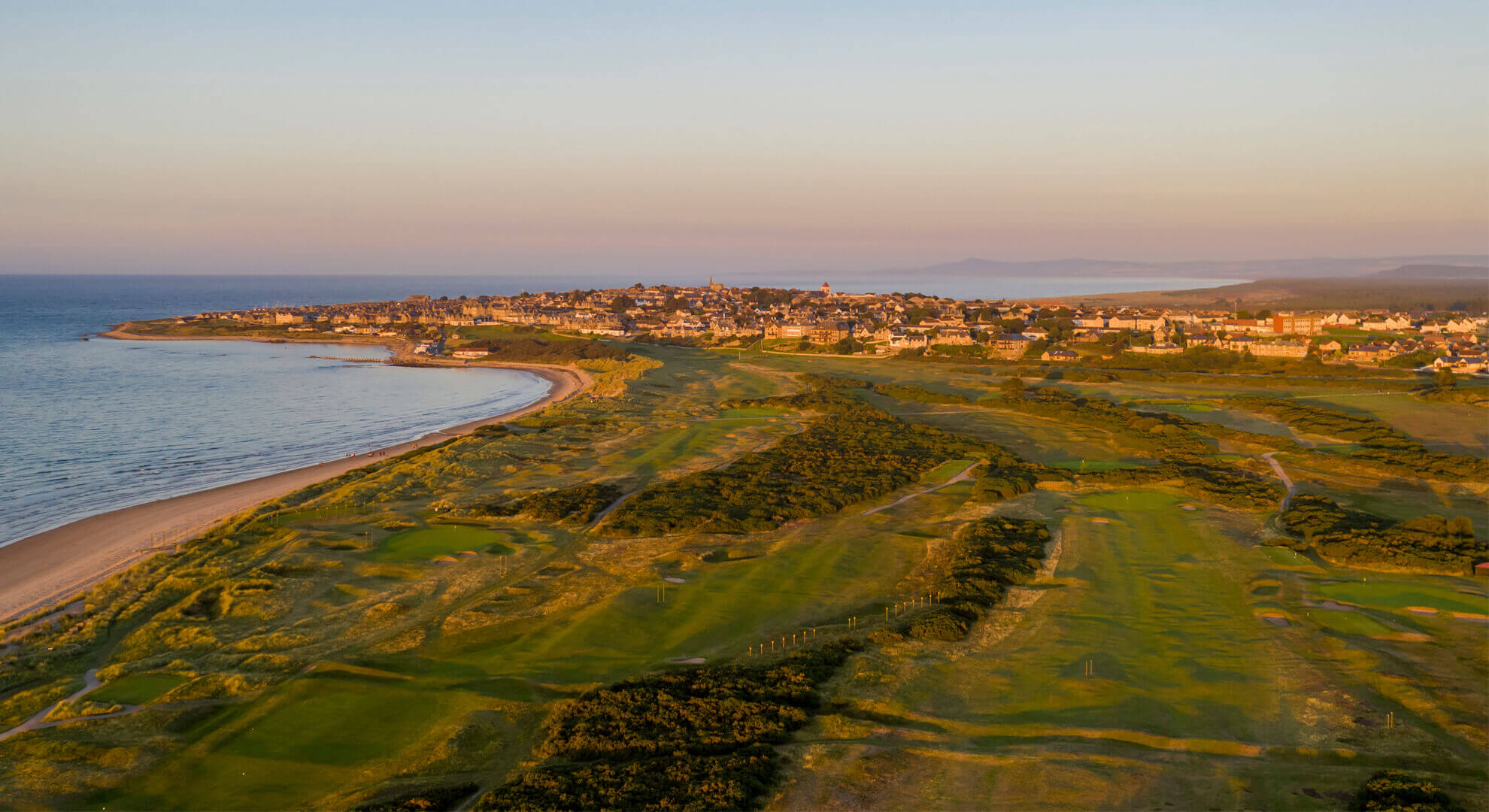 The Moray Golf Club is wonderfully positioned for those travelling from Aberdeen to Inverness or vice versa and if you break the journey by playing this lovely links you will be glad you did! There are few better days than a game on Moray`s Old Course and a visit to any of the 50 Speyside distilleries close by with Macallan and Glen Moray being just two of he more popular choices. The old course is considered to be one of the finest links courses in Scotland. A classic links designed by Old Tom Morris with deep revetted bunkers, undulating gorse lined fairways and smooth fast greens. It is a superb test of golf. Moray Golf Club is truly one of Scotland's gems, a fitting tribute to the artistry of Old Tom Morris and 3 times Open Champion Henry Cotton who made a great job of designing the New Course.
Nairn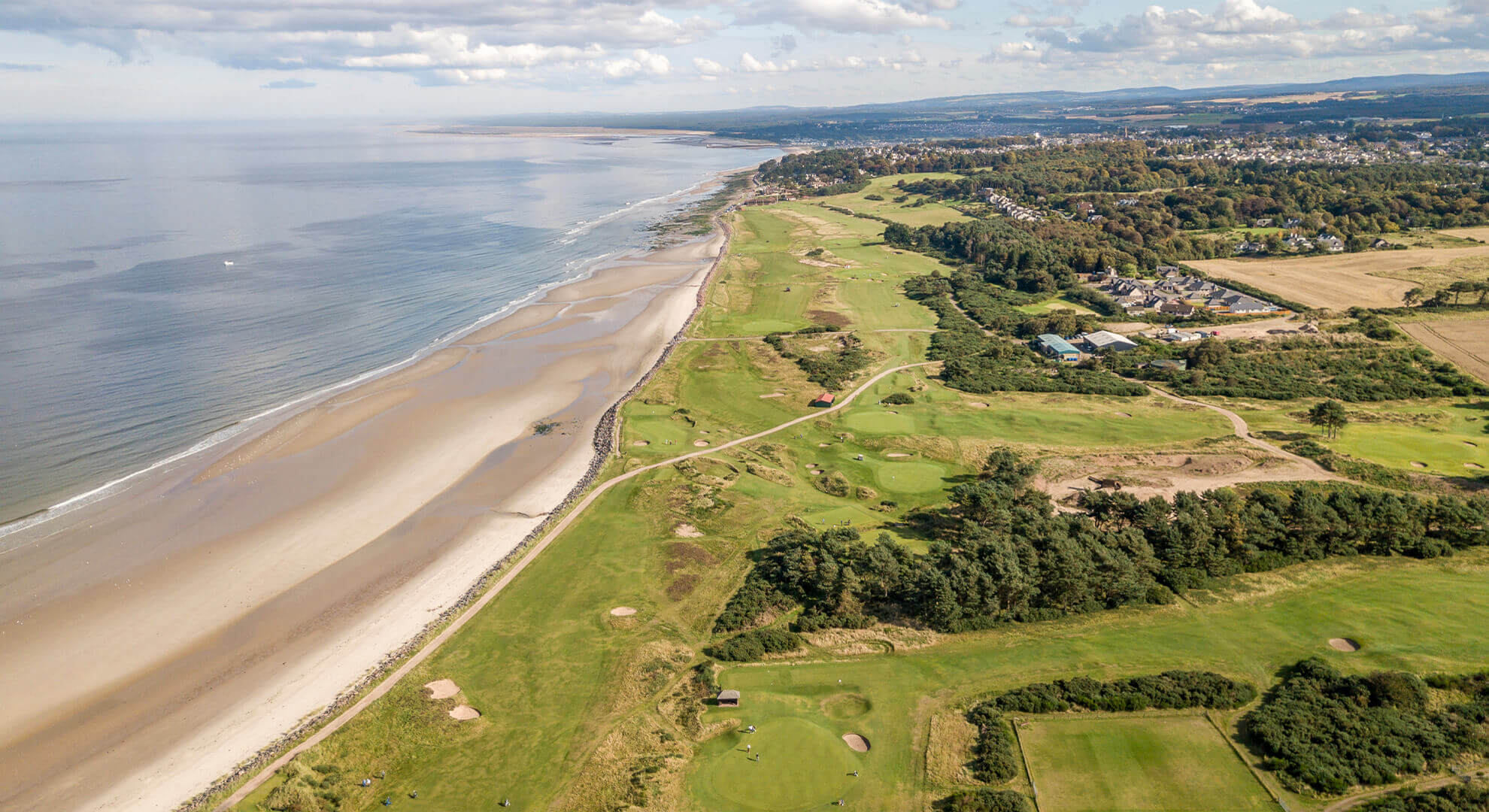 A great driving course with fabulous views across the Moray Firth, which is visible from every hole and which the course hugs for the first 8 holes. This 1999 Walker Cup venue was masterminded in 1887 by Advocate, Robert Finlay, who was the local MP, spent 3 years and Lord Chancellor, went on to become a Viscount and began the process of evolution which has seen Nairn designed and tweaked by some of the games` great architects including Archie Simpson, Old Tom Morris, James Braid, Ben Sayers and most recently the R&A's architects, MacKenzie & Ebert. Phil Mickelson put it rather well in 2012 when he said, "As I get more into course architecture I like to see marine golf courses and the beauty of Nairn is its simplicity. It is just a beautiful, straight forward test."
Royal Dornoch
Quite simply and by some measure, the most northerly, truly great golf course in the British Isles. Were it located a few hours south it would certainly have hosted several Opens by now. Whilst well north no one regrets the trip and many clients go back again and again generally playing 36 holes if they can subject to availability. A haven for golf since 1616, we need say no more than the original golf course ranking magazine "Golf Magazine" ranks it no. 10 on the planet. The home town of the great Donald Ross and when you play the par 3`s you will see the great man's inspiration for courses such as Pinehurst No. 2, Aronimink, East Lake, Seminole, Oak Hill Country Club, Glen View Club, Memphis Country Club, Inverness and Oakland Hills Country Club.
Tain
Old Tom Morris returned 4 years after his work at Royal Dornoch, 10 minutes north of this quaint linksland, to design this gem. Tain, opened in 1890. Originally 15 holes it
was later extended to allow marvelous views of the Dornoch Firth and many a great day has been had by our clients playing here and taking in a tour of the world renowned Glenmorangie distillery on the way back to Dornoch!
Luigi's, Dornoch
A must during your stay in Dornoch, a modern and friendly restaurant on the Main Street in Dornoch.
The dinner menu at most rating companies` no 1 restaurant in Dornoch Is contemporary European with san emphasis on Scottish seafood & locally sourced ingredients.
Mustard Seed, Inverness
Travelers' Choice "Every day restaurant of the year" and open since 1995 this warm, friendly Mustard Seed has become one of our clients` favorite Inverness restaurants. It has a wonderful location on the River Ness and the conversion to a restaurant from a Church provides a great ambience and a key ingredient – stunning food!
Rocpool, Inverness
On the other side of the River Ness from the Mustard Seed and also in the city center is Rocpool for many years has had the pleasure of welcome our clients to their restaurant. They serve fresh tasting food that is inspired by flavours from around the world, with fine local ingredients at their heart to a sublime level!
Cafe One, Inverness
Also in the town center – so well served by great restaurants – is Café 1 where chef patron Norman MacDonald supplies superb offerings with great pride of execution using only local ingredients some of which even come from his own croft!
Known for their appealing contemporary dishes – you`ll love it!
The Classroom, Nairn
The Classroom has been a mainstay of the Nairn scene for over 10 years and has consistently delivered from day 1 excellent food and drinks all responsibly and locally sourced then delivered with great Highland hospitality. This Bistro should be on the list of dining options when in the Highlands.
Boath House, Nairn
Those who enjoy really good food will love Boath House`s cuisine created by chef Charlie Lockley. The building was designed by celebrated architect Archibald Simpson as a private home in 1820 it became a small hotel in 1997 and the impeccable attention to detail of the kitchen, wonderful service and great wine list make this a top destination.
Bandstand Restaurant, Nairn
The restaurant makes the most of the tranquil setting and views of the lovely town of Nairn. Iain Gordon is an outstanding chef who prides himself on using all the amazing, world class produce on his doorstep.
Culloden House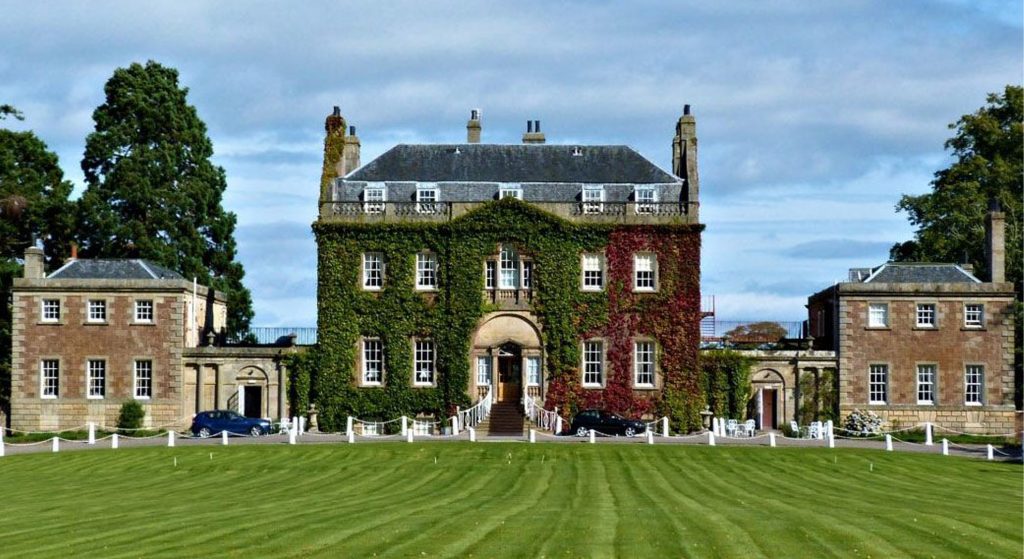 The overnight stopping off point for "Bonnie Prince Charlie" the night before the Battle of Bannockburn which saw him and his Army defeated and him fleeing to France. This building has changed somewhat since that day in 1746! In the 1770`s one of our very best architects Robert Adam, was in residence whilst working on Fort George 6 miles away and was enlisted to transform the building which he did superbly.
One of the very best hotels in the Highlands and indeed Scotland, its wonderful whisky bar set in the library, charming ambience, friendly service and award winning cuisine make it an experience not to be missed!
Drumossie
Part of the MacDonald Hotel chain, the Art Deco Drmossie is set in nine acres of beautiful parkland with views over the Moray Firth which lends itself to the peace and elegance which pervades the property. It sits perfectly placed for your golf or a cruise on Loch Ness to look for "Nessie" or a trip to the Jacobite stronghold of Urquhart Castle. The 2 AA Rosette restaurant rounds out a great venue for any Highland trip.
Golf View, Nairn
Its stunning location overlooking Nairn Golf Club and the over the Moray Firth to the Black Isle is a treat that only the very epitome of Scotland, The Highlands, can provide. The hotel has great vistas, great spa treatment an AA Culinary Excellence restaurant ideally named for the golfer, The "Hickory" – what more could you want? !
Kingsmills Hotel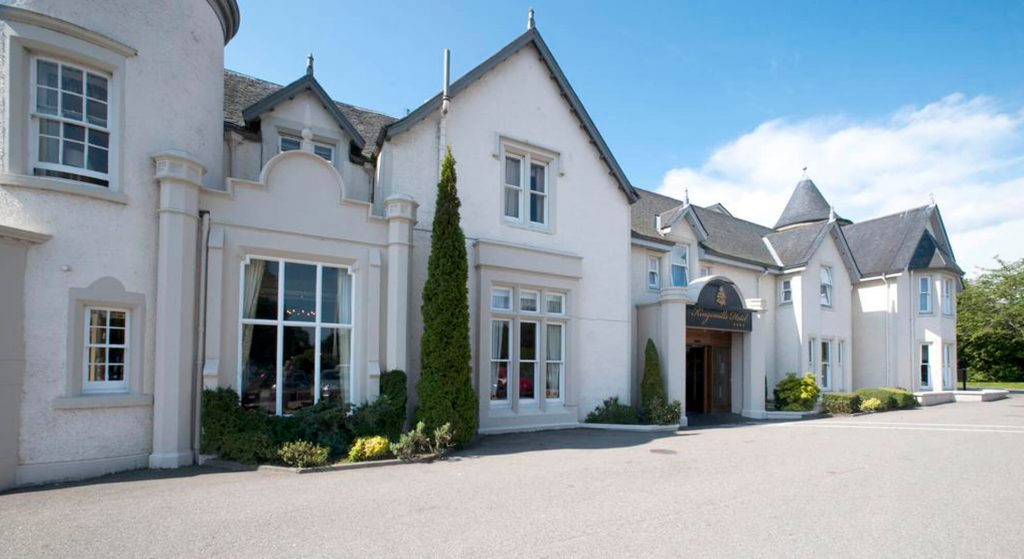 Along with Culloden House and its sister hotel, Ness Walk one of our most popular venues in the Highland capital of Inverness. Located very close to the city center The Kingsmills offers a variety of extremely luxurious rooms across the more traditional hotel, a feature of Inverness since 1785, and the latest addition of the Kings Club Spa extension. Both the Conservatory and Inglis Restaurants on site offer some of the best cuisine in the Highlands by great award winning chefs.
Links House, Dornoch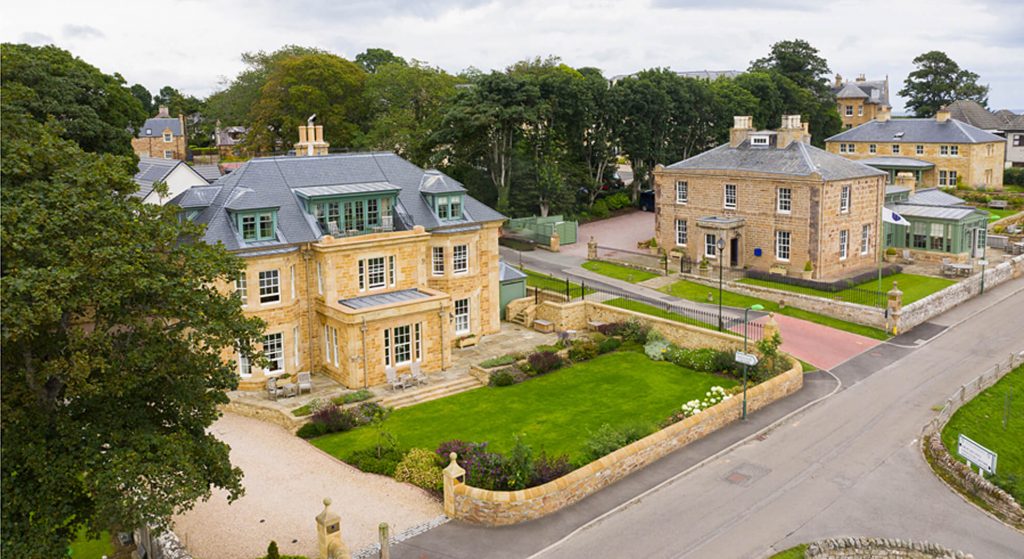 This 5* award winning luxury accommodation and fine dining is one of the most graceful and elegant properties our clients frequent and its location, adjacent to the first tee of one of the World`s top 10 courses Royal Dornoch, could not be better!
It is complemented by the Aspen spa and some wonderful, award winning food – a top, top location.
Morangie House, Tain
The Morangie House, a fine old Victorian mansion, is set on the outskirts of one of Scotland`s oldest burghs, Tain, very close to the famous Glenmorangie whisky distillery and the A9 which takes you to any part of the beautiful Highlands.
Its grand design and spacious elegant rooms have all been modernized whilst retaining its character and charm and with an AA Rosette for culinary excellence it is a great choice very close to Dornoch and The Carnegie Club at Skibo Castle.
Ness Walk
St Andrews is fortunate to boast 2 5 star Resorts and the Fairmont overlooking St Andrews Bay and the north sea with Carnoustie on the other side is superb.
Its elegant and comfortable luxury guestrooms and suites offer an inviting and spacious space with luxury Scottish touches with stunning coastal views over the resort and St Andrews.
To complete the package in addition to its two golf courses there is a wonderful Spa and four excellent dining options.
Royal Golf House, Dornoch and Royal Golf Apartments, Dornoch
Located on Royal Dornoch's First Tee, The Royal Golf Hotel and Royal Golf Apartments are a golfers' paradise providing a traditional Highland welcome.
Many of the 22 en-suite individually styled bedrooms overlook both the golf course and Dornoch Firth beyond. To complement this there are also have 14 luxury 2 bedroom, 2 bathroom apartments available.
The Royal Golf Hotel was awarded 'Scottish Golf Hotel of the year 2011' at The Scottish Hotel Awards Ceremony the distance from the hotel reception to the first tee is probably the shortest walk in the world from a hotel to a nearby golf club.
The Royal Golf Hotel is your ideal base in the Highlands and with 20 golf courses within an hours drive,. Also overlooking the North Highland Coastline and next door to the first tee of the Royal Dornoch Golf Course, the open-plan, self-catering apartments provide a relaxing, private place to stay whilst taking advantage of all the hotel`s amenities, should you wish, next door where the Catering team consistently produces exciting and seasonally changing dishes with an emphasis on fresh local ingredients, blessed as they are with an abundance of quality produce especially Scottish beef, fish, shellfish, and game which are to be found on our regularly changing 'specials menu'.
The Castle Hotel, Dornoch
Dornoch Castle Hotel is set in the center of the historic town of Dornoch directly opposite the 12th century Cathedral, making it a great choice for a luxury tour in the Highlands. The Castle is the site of the original Bishop's Palace of St Gilbert who founded the Cathedral in the 13th century. Although we are not sure of when the oldest part of the building was erected but in 1557 the Castle was given to the Earl of Sutherland by Bishop Robert Stewart so it is likely that the existing building dates back to the 15th century. Recently the Garden restaurant was upgraded and is now a lovely contemporary venue with excellent cuisine.